1th solo exhibiton "Monster House"
in platoon kunsthalle, seoul - November 4 ~ 14, 2009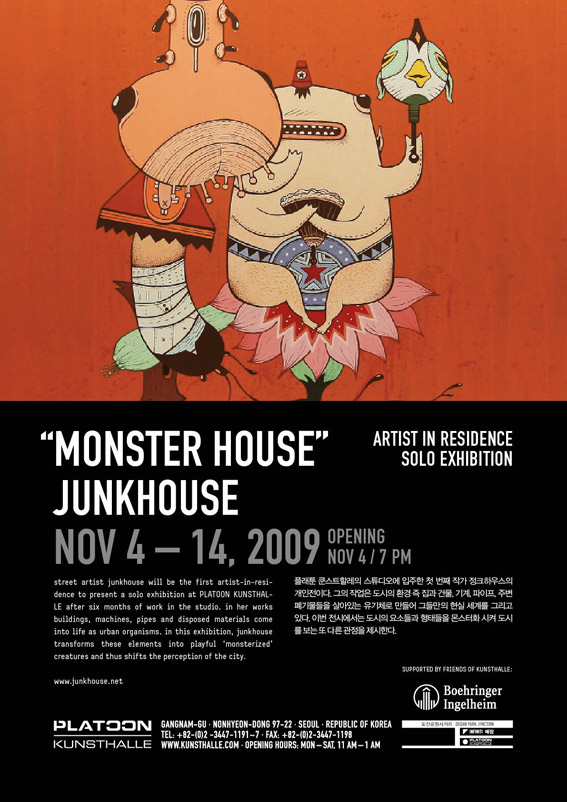 플래툰 쿤스트할레의 스튜디오에 입주한 첫 번째 작가 정크하우스의 개인전이다. 그의 작업은 도시의 환경 즉 집과 건물, 기계, 파이프, 주변 폐기물들이 살아있는 유기체로 만들어 그들만의 현실 세계를 그리고 있다. 이번 전시에서는 도시의 요소들과 형태들을 몬스터화 시켜 도시를 보는 또 다른 관점을 제시한다.
street artist junkhouse will be the first artist-in-residence to present a solo exhibition at PLATOON KUNSTHALLE after six months of work in the studio. in her works buildings, machines, pipes and disposed materials come into life as urban organisms. in this exhibition, junkhouse transforms these elements into playful 'monsterized' creatures and thus shifts the perception of the city.
supported by friends of kunsthalle
boehringer ingelheim
>> process "
click more photo
"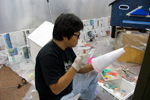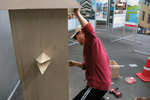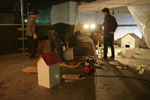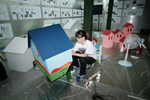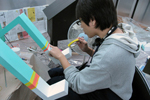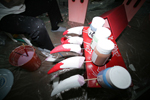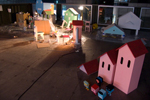 special thiank you:

platoon kunsthalle (all office staff - tom, honney, udo, ohuyn, yeonsoo, helen, dongmi, una, tutu
all bar staff - charles, yoonkyoung, eunjoo, haeryun, sangwook, and you(sorry i forgot your name sweety),
potographer ozee, special sponser beohringer ingelheim
very special thinak you:
mom, jiyoung, jongsun, miyoung, hyunmi, ben, jieun(jun), garoo, handy, beom, jisun, gufmott, lenny, vemo, sujin(bonajin)
and my kunsthalle residencies artist friend soomi

thank you sooooo much! i love you all you guys~